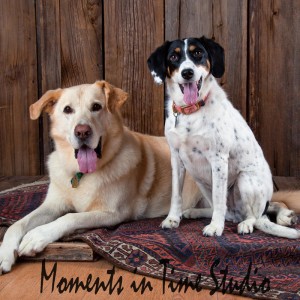 I hear that question over and over! I have three secrets:
Patience. Patience. And more patience.
I own four cats and a dog, so I know how to handle pets. During a photo session, I follow their lead and don't get flustered. In fact, pets are a joy to photograph because they completely lack self-consciousness. (Pets never whine about bad hair days.)
When you bring your dog to Moments in Time Studio, don't expect me to make a big fuss over him or her initially. I've found that if I ignore the dog at the beginning, it allows him or her to "forget" I'm there. That way, our shoot isn't hindered by Fido trying to be my friend or lick the camera lens. Instead, I can concentrate on bringing out the best in my subject. But when we're done? That's my chance to give him treats and lavish him with attention.
Do I ignore cats, too? Of course not. They ignore me!
Going with the flow can result in some completely unplanned – and priceless – photos. For example: One owner brought his Boston Bull terrier and his Chihuahua for a "sitting" so I could photograph them as a surprise gift for his wife. The dogs turned playful, and his favorite shot was the one of the Chihuahua chewing on the Boston Bull's neck – because it reflected the kind of play they engaged in on a daily basis at home!
So, no, they don't always sit still – and sometimes that's my best opportunity to capture their "portrait"!